The Tool Belt

The Tool Belt, a Master Degree Project
This project is rooted in the insight that the tool belt is a piece of jewellery, that has strong connections to the 18th century Châtelaine.
It explores the relationship between practical functionalities and adornment in body related objects. The work concerns jewellery as a status- and affiliation marker, and how jewellery is used within gender- and power structures within society. By bringing the toolbelt into the sphere of jewellery I approch the issues of jewellery and masculinities from a new perspective.
The objects that I present work as instruments of self-analysis, that that can help me develop and redefine my practice as a jewellery maker.
This work is the end result of a two year long Master Program at Ädellab, Konstfack, where Tobias Alm has studied under Professor Karen Pontoppidan.
The Tool Belt has been exhibited in many places around Sweden, most recently at ArkDes in Stockholm, as a part of the exhibition Norm Form.
The Tool Belt, ett Masterarbete
Tobias Alms verk The Tool Belt är en serie objekt gjorda i framför allt silikon, polyuretan och trä. De kan ses som ett slags hybrider, som befinner sig mitt emellan verktyg och mänsklig kropp. Grunden till alla objekt är avgjutningar av Tobias kropp, som sedan omarbetats till en silikonhud mycket lika hans egna hud både till utseendet och i hur den känns. Hudarna har Tobias sedan kombinerat med andra material, och format till ett verktygsbälte och tre handverktyg; en hammare, en vinkelhake och ett snickarlod.
Verktygsbälten och snickarverktyg används som symboler för en viss sorts maskulinitet, uppbyggd kring värden som hantverksskicklighet, kontroll, logik, självständighet och styrka. Han vill i detta arbete självkritiskt utmana machoideal, och frågar sig vad som händer när verktygsbältet och verktygen smälter samman med det som kan kallas natur, och med hans egna kropp? Den kontrollerande kraften smälter samman med det den vill kontrollera. Hammaren är gjord för att slå in något eller omforma material utan att själv påverkas, vinkelhakar och lod är gjorda för att finna perfekt vertikala linjer och räta vinklar. Verktygen som Tobias har gjort är dock varken räta eller perfekt vertikala, utan skevar och kröker sig. Hammaren är lika sårbar och påverkbar som den mänskliga huden.
The Tool Belt: The Belt, closeup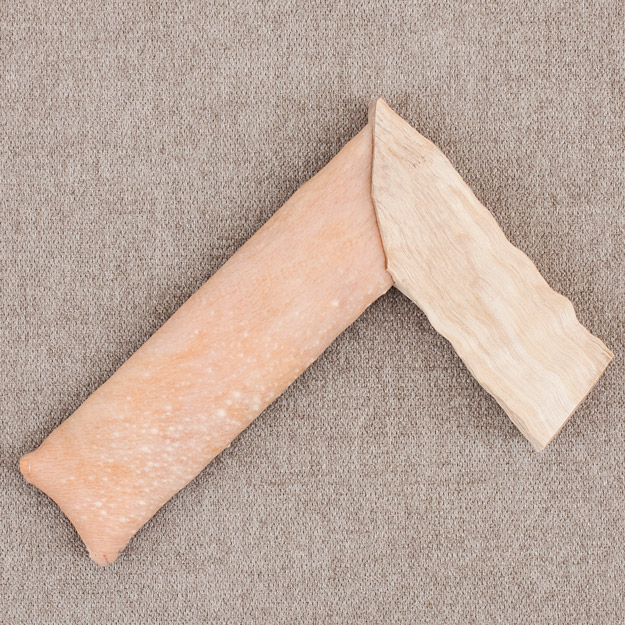 The Tool Belt: The Try Square
The Tool Belt: The Plumb Bob
The Tool Belt: The Hammer, closeup
The Tool Belt: The Belt
The Tool Belt: The Bag
The Tool Belt in the media
During 2018 the Tool Belt has been featured in two magazines. First the Norwegian craft magazine Kunsthåndverk, which did a report on the exhibition Norm Form. After that the Swedish art magazine Konstnären did a cover story on jewellery art, and chose to have Tobias and The Hammer on the cover.  More info on the press page.