Whittling no. 5
A pendant from 2021
Whittling no. 5 is a pendant from my latest body of work, consisting of twelve hand whittled pendants in the shape of spoons. All of the wood for the pendants is collected in an area within five kilometers from where I live, in Blackeberg, Stockholm.
Materials in the pendant
Name of species:
Acer platanoides, Norway maple
Location:
59°20'10.1″N 17°56'16.2″E
Reason for collecting:
The tree got cut down to make way for a new bike path.
Wood treatment:
Linseed oil from flax grown in Sweden.
Material in string:
Linen string spun in Hälsingland, Sweden, made from ecologically grown flax from France and Belgium.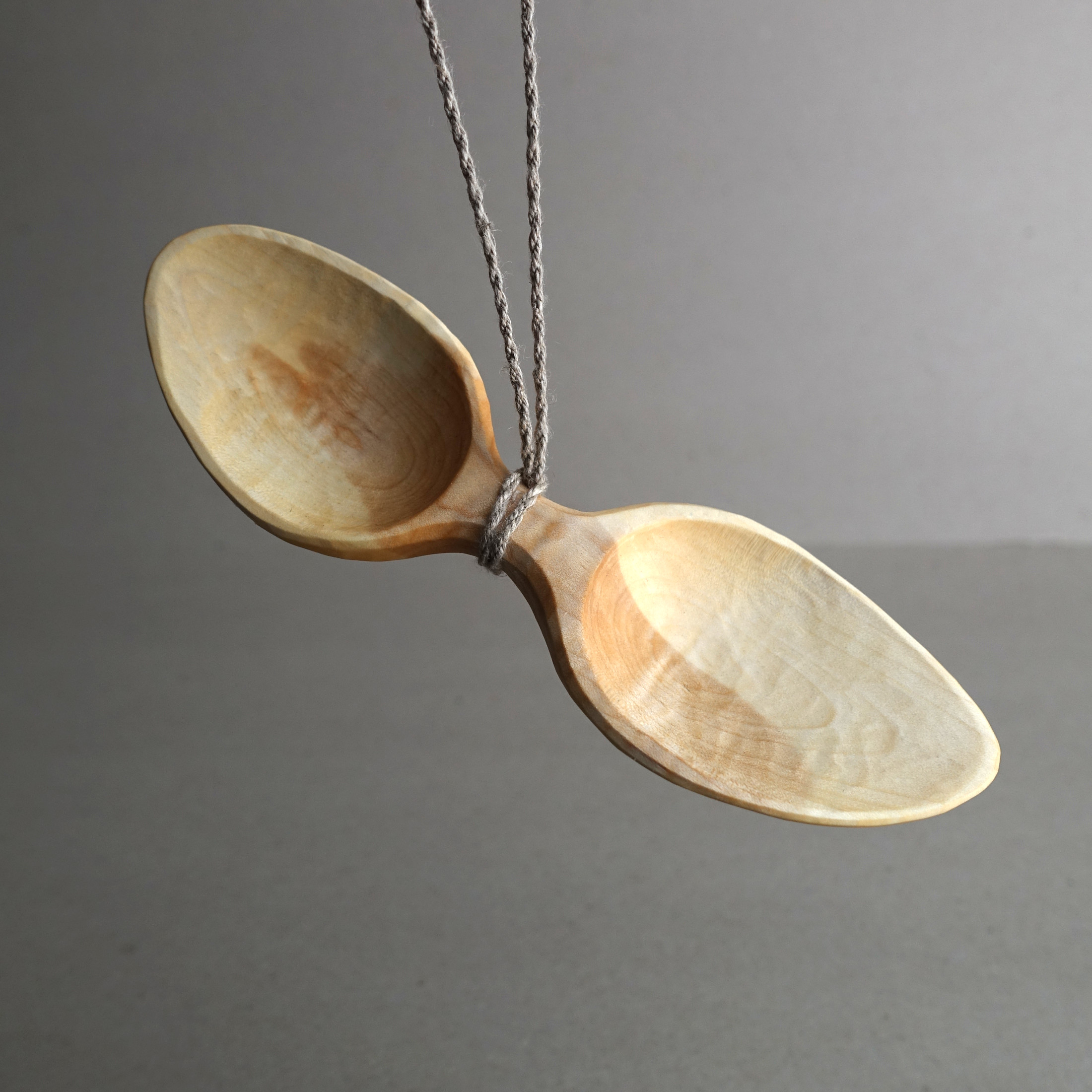 Ward Schrijver about the work
Twelve years ago Tobias Alm had his first presentation in our gallery. He had recently graduated and was as yet without a workshop. He then created impressive jewellery at home limiting himself to what he had available there, wood and textile. At the time the introduction to the show stated: ' Alm is not one for poignant stories or personal confessions. …. From matter alone, he strives for mysteriously inscrutable results'.
Now, that he is having his fourth exhibition with us, a lot has changed, both in his own, as in our shared world. However, Alm's dedication to working with wood has only grown, however it is no longer a indeterminate medium. He can regularly be found in the forests that surround his house; he follows what is happening there, monitoring the effects of storm damage, of logging. The roots of his new work lie in those woodlands, and this time he does have a story to tell: about how special and unique nature is, that it is a gift not to be treated with negligence. Each pendant he has made, has been fully documented. Which species of trees provided the wood, the original location of each tree – with full gps-coordinates – and why the wood ended up on his workbench; everything was recorded. As was the case with the origine of the linseed oil used for finishing to the wood, the country where the flax for the strings was grown – organicly naturally – and where it was spun.
Alm's work calls for showing respect, being careful and attentive. It is also, just as his earlier jewellery pieces, very wearable and desirable. Not dominated by pushy artistic or provocative statements, these pendants are a kind, careful gesture in a society that is gradually spinning out of control.
Tobias Alm will bring his work to the gallery, so he can be present at the opening, and of course he will travel from Stockholm to Amsterdam by train.
Ward Schrijver
(© Galerie Rob Koudijs)