The Châtelaine / 9 Jan 2016 - 20 Feb 2016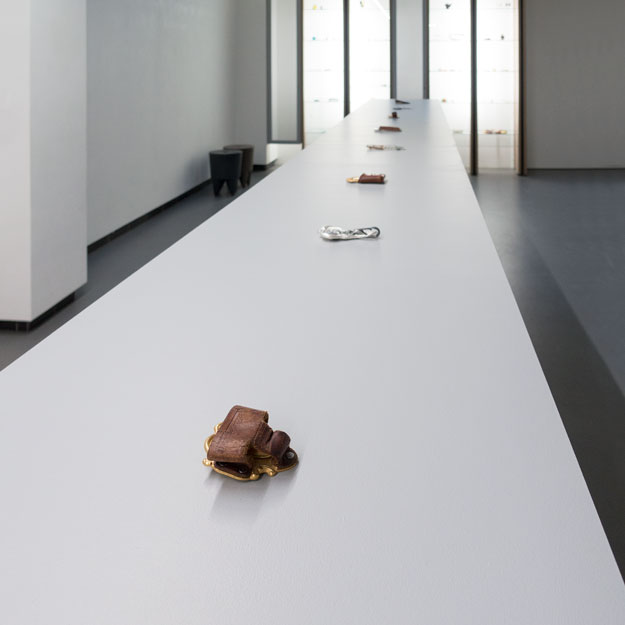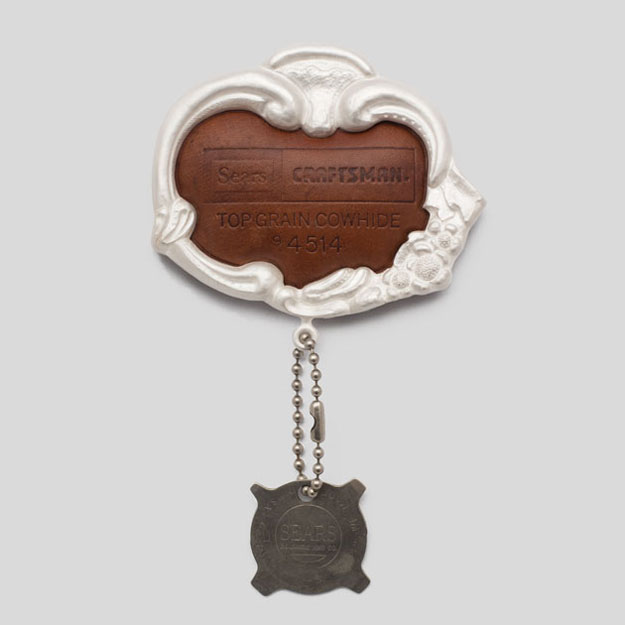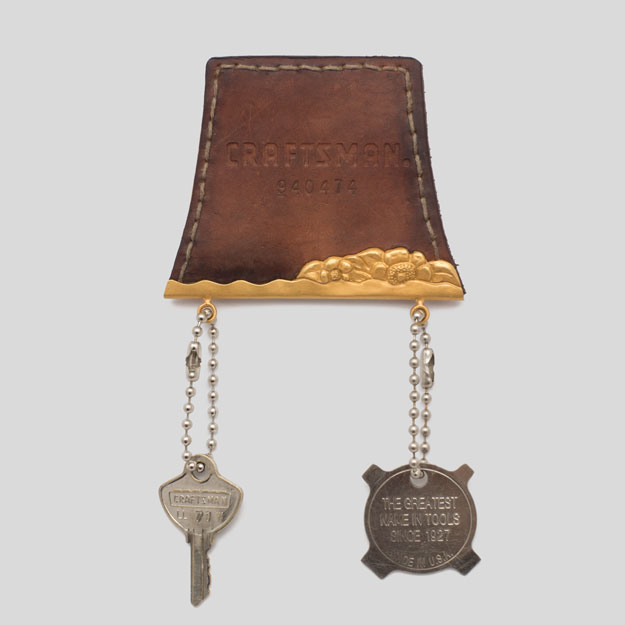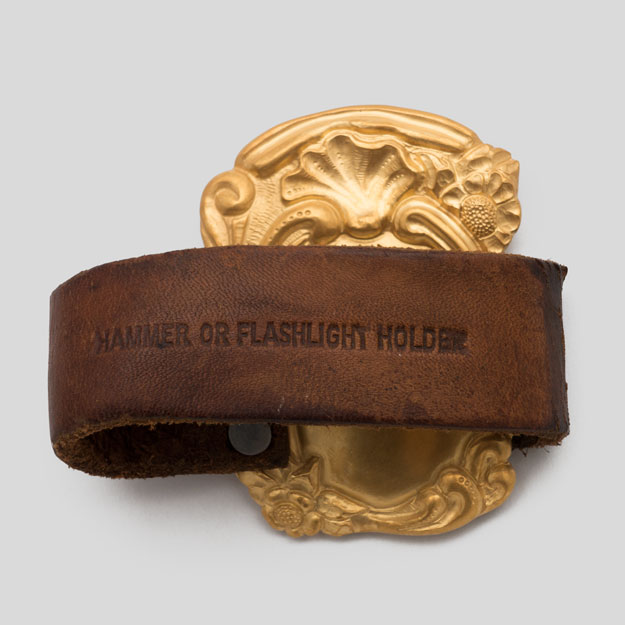 Solo exhibition at Galerie Rob Koudijs
The Châtelaine is Tobias Alm's most recent body of work. It will be exhibited for the first time in January 2016, in a solo exhibition at Galerie Rob Koudijs in Amsterdam.
The project was initiated in 2015, one year after his graduation from the Master Program at Ädellab, Konstfack.
The Châtelaine is a continuation of Tobias' investigation in the culture of the tool belt from a jewellery perspective.  The pieces of jewellery in this project are a kind of hybrids between the tool belt of today and a historical piece of jewellery called the châtelaine. They are composed out of fragments of used leather tool belts, combined with gilded silver elements made with repoussé and chasing techniques in a rococo style.
"I started analyzing the tool belt as if it was a piece of jewellery. I discovered a vibrant culture of body adornment embedded in the structure of misogynist, patriarchal masculinities. Masculinity and jewellery have a complex relationship, filled with fears of breaking norms and socially constructed gender rules. It seems as wearing jewellery poses a threat towards certain masculinities, which is counteracted with different strategies to avoid feminization. One of these strategies is to connect jewellery with practical functionality. Examples of this are the tiepin and the cuff link. Because of this, comparing the tool belt with the châtelaine becomes very interesting. These two objects are both filled with practical functionality (tool), and with symbolic and social functionality (jewellery). Although they are very similar in this aspect, they are interpreted very differently because of their different contexts and gender constructs. By joining the tool belt with the châtelaine, and stating that it is a piece of jewellery, I wish to challenge and question the culture of masculinity that surround me, and contribute to an analysis and a reformation of these detrimental gender structures. I believe that the merging of the chatelaine with the tool belt also open up for a new analysis of the practice of wearing jewellery, in relation to the social structures of masculinity."
-Tobias Alm
Ward Schrijver about the exhibition
October 2009 the gallery showed jewellery by Tobias Alm, who has then just graduated from Ädellab Konstfack, the art academy of Stockholm. This work was all about materials, about phenomena like weight, rhythm, contrast, colour, and connections. Its message, both to the wearer and the observer, lies somewhere between invitation and provocation. In 2012, at Alm's second exhibition, the emphasis has shifted to a vocabulary of shapes that is familiar to everybody but hardly ever takes center stage: that of tools and utensils. In no way steered by functional aspects, the design plays a intriguing game with form and associations.
During the past years Alm continued his studies in order to obtain his master-degree, which gave him the opportunity to investigate his fascinations more profoundly. He concerned himself not only with the way devices are composed, but also with the social meaning of the things we wear. His point of departure for his final project was the tool-belt, that pinnacle of efficiency and masculinity. As a body-related object (to use the correct jargon) it functions as an identifier and as a sort of jewellery. Even more surprising is the affiliation with a 'genuine' traditional jewel, the chatelaine: once a pragmatic key-ring on a housewife's belt, which in due course developed into a complex and luxurious ornament.
Through this confrontation, codes and meanings quickly accumulated, providing Alm with sufficient inspiration to get to work. In the results his sources are still clearly recognizable: authentic sturdy leather fragments, which are combined with gilded silver elements in a hybrid rococo-style. In combination with Tobias Alm's already familiar talent for contour and shape, beautifully crafted jewellery pieces emerged that can genuinely be qualified as 'gender-neutral'.
Ward Schrijver
(© Galerie Rob Koudijs)